Trademark Registration
in just 6,400/- (All inclusive)
Keynotes on Trademark Registration
- Start using TM in just 3 day
- It takes 1 day to file for Trademark Registration
- Protect you and your company from legal cases
- File from anywhere in India (100% online)
Trademark Registration
Do you want to create a brand name for yourself like Paytm, Flipkart? of course yes, then you are just about to take the first step in making. Trademark Registration is not just a license but a urgent need in the day today life of business. If you cant secure your brand then you will go out of business soon. Just imagine what if Paytm loses their brand today? it will be a blunder for the company. This is because it is not the company name but the brand name that matters. Just look around yourself, you will find that you are surrounded by the trademarks like McDonald, Pizzahut, Dominos, Amazon, Flipkart etc.
Hence, if you want to start your business or already running a business, then go for trademark registration and secure your brand. Securing a brand with hubco.in is very easy and the whole process takes only a day. If you want to secure your brand today then just email us with your requirement and our sales team will guide you accordingly. The payment will take place online through secure payment gateway and all documents can be sent online through email. The trademark filing will be completed in a day and you will be able to use TM in just three days time. Hence, it is as simple as possible with hubco.in.
Further, once the trademark is filed, the next thing you should do is to track your application online. This is because the trademark registration process takes around 9 to 16 months and hence, it is recommended to keep a close watch on the status of the trademark application otherwise application may get rejected due to non filing of the timely replies with the trademark department.
What all you can register as trademark?
Do you know that you can trademark a sound as well? Yes, though mostly people trademark the brand name of the company. But in reality, Trademark can be off various type like the sound of Paytm Karo, the red color of coke a cola, the famous ringtone of airtel etc. Hence, one must protect all his intellectual property at all cost. Here are various types of trademark explained
Product
Pantene is the shampoo product and can be trademarked.
Shape
Have you ever seen the shape of beer bottle? It can also be trademarked.
Service
Snapdeal, Flipkart are all example of service based companies
Sound
Remember the famous ringtone of airtel, it is also a trademark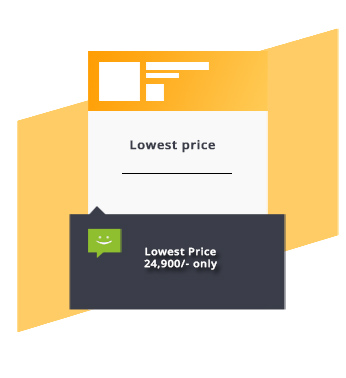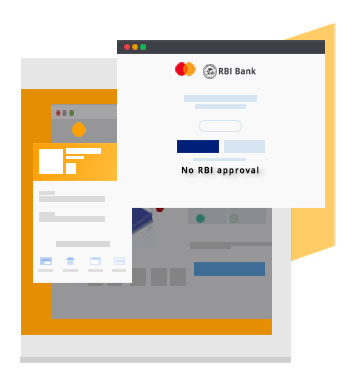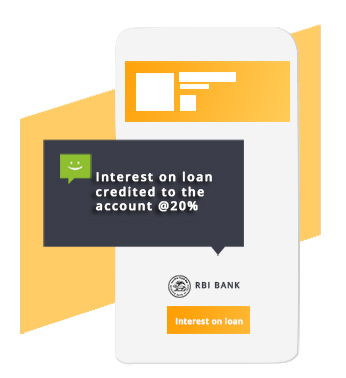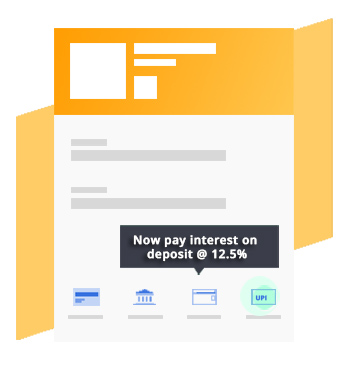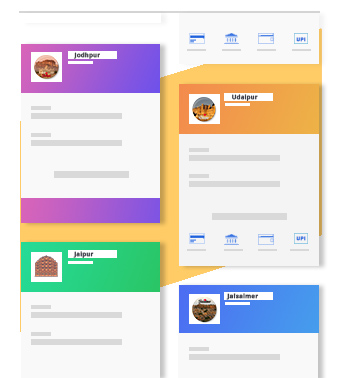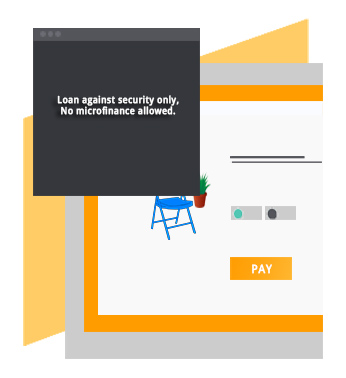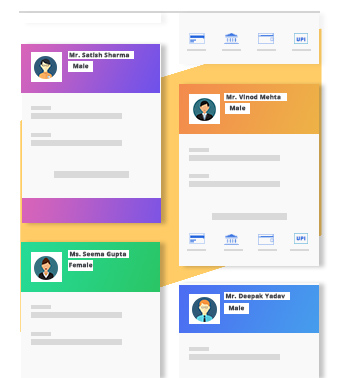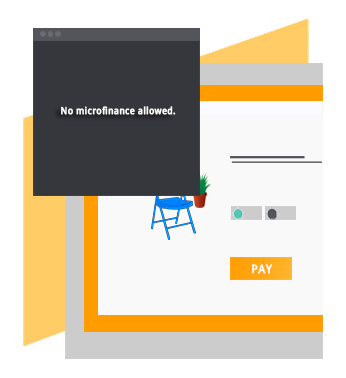 Color
The famous red color of coke is also a registered trademark.
Word
Google, yahoo, facebook are few example of word trademark.
Logo
The nike logo is also a example of trademark registration.
Phrases
Just do it! a famous nike phrase and a registered trademark.
Documents Required for Trademark Registration

TM Requisition Form
This form is sent by our team and you just need to fill the same send us back online

Power of Attorney
Power of attorney is a document by which one authorized the other person to file the TM on his behalf

Declaration for use of TM
You need to give declaration for using TM

Other Documents
Sometimes other docs are also required like MSME's.
*Only scan copy of all documents are required. Hard copy are required only from Non Resident Indians (NRI) or Foreign nationals.
Cost and Time for GST Registration
Generally, it takes only one day to file the trademark registration at the cost of Rs. 6,400/- (all inclusive) and in three days you will be able to use TM on your trademark. Further, for complete registration, it will take around 9 to 15 months.
Total Cost Breakup for Individual
| Items | Price |
| --- | --- |
| Government Fee (Individuals) | 4,500 |
| Affidavit Cost | 100 |
| TM Attorney Fee | 500 |
| Professional Fee (Inclusive of Taxes) | 899 |
| Total Trademark Registration Cost for Individual | 6,400 |
Total Cost Breakup for Company
| Items | Price |
| --- | --- |
| Government Fee (Companies) | 9,000 |
| Affidavit Cost | 100 |
| TM Attorney Fee | 500 |
| Professional Fee (Inclusive of Taxes) | 1,400 |
| Total Trademark Registration Cost for Company | 11,000 |
Get free consultation on Trademark Registration just call us directly on +91-9953523014
Trademark Search
Trademark search is one of the most important thing for trademark registration. Trademark search enables you to file the trademark registration more properly and correctly. But it is not easy to search the trademark as the search procedure involves a lot of filters and hence, there are multiple steps involved. All the required steps for trademark registration has been listed into the following steps;
STEP 1
Make a complete list
The first step for trademark search is to make a complete list of proposed marks that are required to be searched.
1 of 6 steps
STEP 2
Visit the Trademark Public Search
Once the complete list is prepared, the next step is to write trademark public search on google and visit the required page.
2 of 6 steps
STEP 3
Select the appropriate class
After visiting the website, click on the link for trademark classes and accordingly finalize the trademark class against each proposed trademark.
3 of 6 steps
STEP 4
Search the trademark
Once the class and proposed mark is finalized, the next thing is to enter the details on the trademark public search trademark.
4 of 6 steps
STEP 5
Check all filters
After the normal trademark search is done, the next step is to check all filters like phonetic search, included search etc.
5 of 6 steps
STEP 6
Analyze the results
Analyze all the obtained results from the trademark search and check whether there are any chances of getting the trademark registration of your proposed marks
6 of 6 steps
Previous
Next
Trademark objection
In almost 90% of the cases, trademark is objected by the department officer. Further, you must make sure that trademark objection is cleared otherwise the trademark will be rejected. In simple words, there can be only two outcome after trademark objection;
Advertised & Accepted
If your reply is accepted by the trademark dept then the mark is accepted and advertised. Now, the next step would be the listing of your mark into the trademark journal.
If the trademark is not opposed by any third party, then the trademark is accepted and application process is completed
Rejected
There are many cases when the trademark department rejected the application and your protection remains no longer valid. This happens in mostly two cases; either when you failed to file the reply or you failed to satisfy the officer with the reply.
Hence, it is important to file TM reply correctly.
Trademark Status
After filing the trademark application online, it is very important for you to track the trademark status very often to avoid the rejection of the trademark application.
The status of the application can be checked online or you can fill the info box and we will let you know the correct TM status further our attorney will also guide you in this behalf.
We promise to connect to you in next 24 hours!
Just visit gst.hubco.in and get start using software from today.
Know More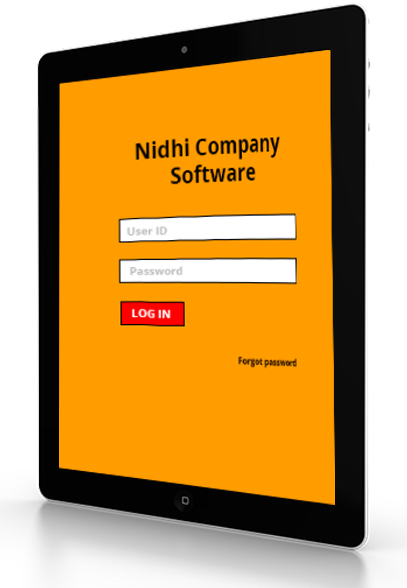 Trademark Classes
There are 45 classes defined in the trademark rules. Each of the class is differentiated with business activity one carry. Hence, to know your proposed trademark class, it is recommended to your business well and then choose the Trademark class.;
Trademark Class for Goods
Trademark class from 1 to 34 belongs to the goods. To choose your respective class first know your business and then choose or you can call us anytime.
Trademark class for Services
Trademark class from 35 to 45 is for services. Hence, if you are in service sector, then all your classes will fall anywhere between class 35 to 45.
Confused?
If you are confused about your class & don't have any idea, then it is recommended to call us at +91-9953523014 or email us at info@hubco.in
Key Highlights for Hubco.in
500+
Trademark Registration filed during previous year.
100+
Trademark objection filed during previous year.
1000+
Advices given on trademark registration and compliance.
FAQs for Trademark Registration
1. What is the validity of trademark?
A registered trademark is valid for 10 years. The trademark renewal fee depends upon your type of organization. If it is a company, the government fee is increased to Rs.9000. Further, in case trademark renewal is filed after expiry but within 6 months after expiry, then fees may also carry late fee charges.
2. How does trademark classification works?
Trademark classification works according to the product and services you are offering. If you are into clothing business, you need to register trademark under class 25, if you are into legal services, you need to register the trademark under class 45. This is how the trademark classes work.
Hence, if you need to register a trademark, you shall have to select the most appropriate class.
3. What is the meaning of proprietor code in trademark? Is company is also known as proprietor under trademark?
Under Trademark regime, every person who owns the trademark is known as proprietor even the companies, firms etc. and hence it should not be confused as a sole proprietor. Yes, companies are also known as proprietor under trademark.
4. What is the meaning of brand registration? How it is different from Trademark Registration?
Brand is something which describes your business. Brand registration and trademark registration is one and the same thing, they are used interchangeably. Anything which is used to name your business is brand e.g. Jeff Bezos, founder of amazon, used the word "Amazon" to name their business. Similar, TATA, reliance, Apple, Nokia, Microsoft are all names of the business which are also a famous registered trademark.
Hence, it is recommended to register your brand as a trademark, as it helps you to establish a unique name in your market and will prove to be an asset in the longer run.
5. What is the meaning of logo registration? What is mean by word mark?
Logo registration means when you are applying for the trademark on your logo. E.g. famous sign of Apple, Nike are all logos which are registered. Logo registration is mandatory in case you want to protect it from any unauthorized use in India. If your logo is being used by any other person, then you can file a trademark infringement case against that person.
6. How to search and check if a brand name is registered in India?
Searching and checking the brand name is an important task for brand registration in India. Brand registration is another name for trademark registration. Hence, if you want to check the brand name availability, then you shall have to check whether trademark is registered on not with the same name.
Further, you can check the registered trademark on trademark public search. Further, if there is any famous mark which is even not registered, then you are also ineligible to apply for the trademark.
7. Is Trademark Registration in Delhi is different from rest of India?
No, Trademark registration in Delhi is same as in the rest of India. Rather trademark is central act and hence is uniformly applied all over India. Further, trademarks are applied online now a days and hubco.in is brand in making for the trademark registration.
8. How to Check Trademark Status Online??
There are many numbers of sites which provides the trademark details. However, one should not trust any website other than the official website of the trademark department. To check the trademark status online, click on the link: Check TM Status and follow the following steps:
After clicking on the link, click on trademarks Indexes.
After that, type the trademark name and select the appropriate class.
Enter the Captcha code and the trademark details will be on your computer